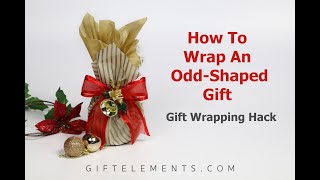 How To Wrap An Odd-Shaped Object for Christmas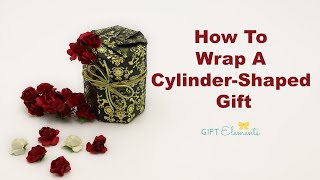 How To Wrap a Cylinder Shaped Gift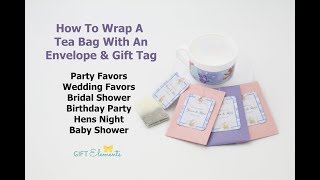 How To Wrap A Tea Bag For Party Favors Using Customised Envelope & Gift Tag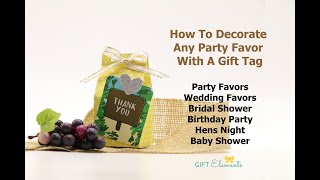 How to Decorate Any Party Favor With Gift Tag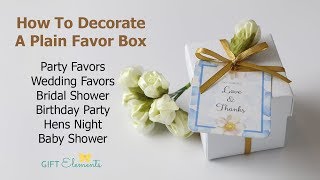 How to Decorate a Plain Favor Box with A Gift Tag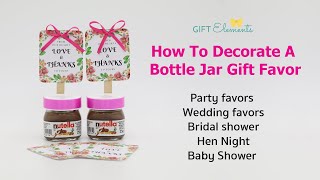 How To Decorate A Mini Nutella Jar With Gift Tag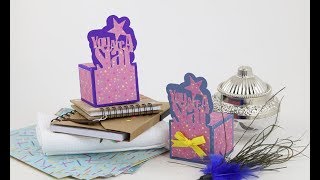 Scan-N-Cut Pattern for Cut-Out Sentiment Favor Gift Box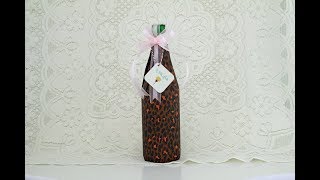 Bottle Gift Wrapping Quickie Hack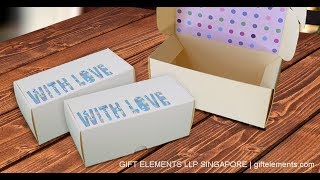 [Video & Template] Scan-N-Cut Pattern for Self-Assembly Favor Gift Box with a Modern Look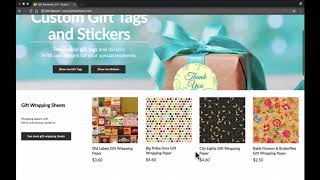 Custom Stickers, Gift Tags and Many More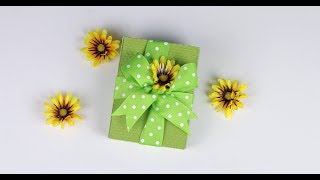 [Video & Template] Scan-N-Cut Pattern for Bracelet Gift Box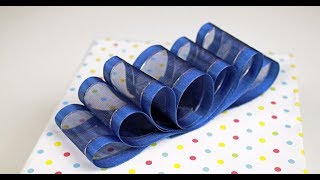 Loops-In-A-Row Bow to Decorate Gifts for Guys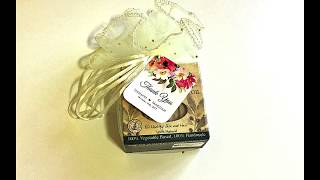 Personalised "Thank You" Gift Tag for Wedding Favours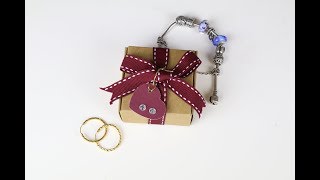 Valentine's Day Gift Wrapping Hack for Small Jewellery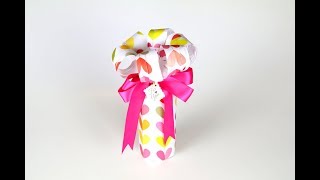 Flower Looped-Top Valentine's Day Gift Wrapping Style for Cylindrical-Shaped Gifts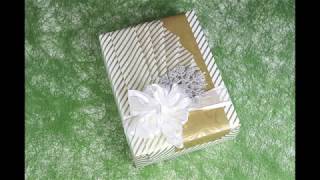 Japanese Fanned-Out Pleats for an Expensive-Looking Gift Wrapping Style This Christmas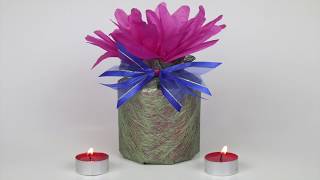 A Gift Wrapping Style Fit for Diwali (Deepavali)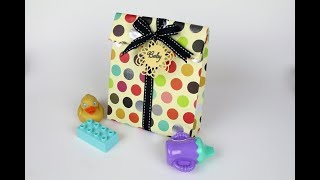 Super Fast and Chic-Looking Gift Bag Using Polka Dot Gift Wrapping Paper with Pretty Gift Tag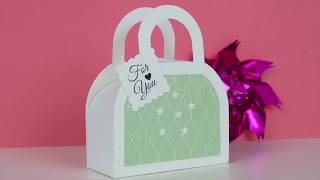 Make a Handbag Gift Box Using the Brother ScanNCut Machine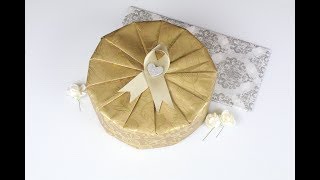 Wrapping a Circular Gift with Golden Garden Wrapping Paper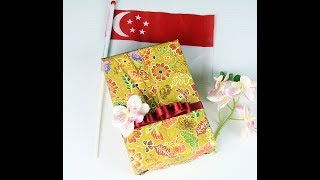 Creative Gift Wrapping with Radiating Japanese Pleats and Batik Wrapping Paper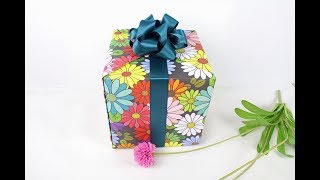 Boho Chic Style Gift Wrapping with Flower Garden Paper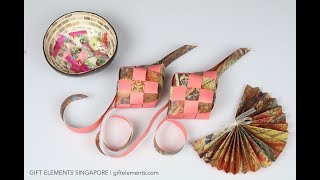 Weaved Party Favour Pack Made From Batik Wrapping Paper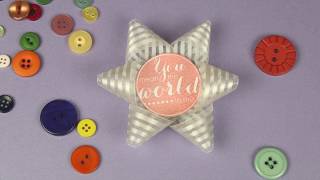 Two-In-One Gift Decoration Pretty Bow and Sentiment Tag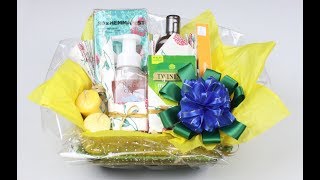 Eid Mubarak Festive Gift Basket for Your Muslim Friends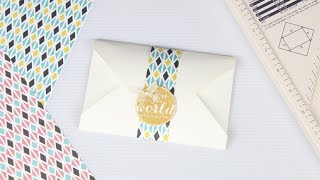 Make a Creative Gift Envelope to Wrap Small Gifts
Creative Gift Wrapping with Leopard Pattern Wrapping Paper, Japanese Pleats and Frangipani Flower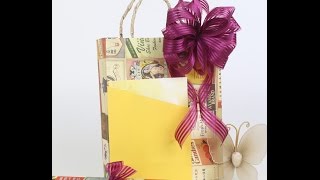 Creative Custom Gift Bag with Front Pocket and Decorative Bow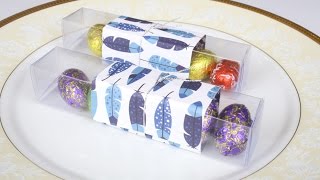 Creative Transparent Plastic gift favour box for Easter Spring celebrations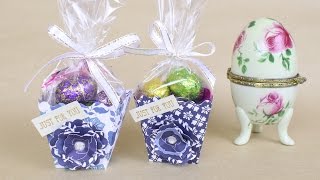 Creative Popcorn gift favor box template hack using porcelain Easter blue cardstock pattern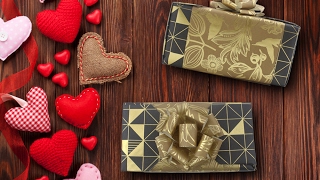 Gold and Black Masculine Gift wrap Design (Valentine's Day Special)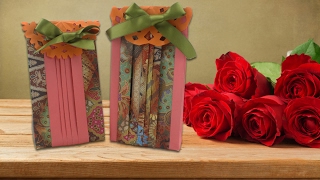 Pleated Batik Gift Bag for Multiple Small Gifts (Valentine's Day Special)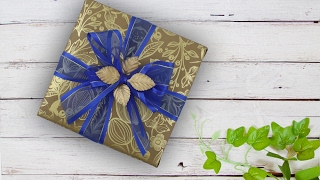 Gold Foil Gift-wrap with Blue Ribbon and Gold Leaves Embellishment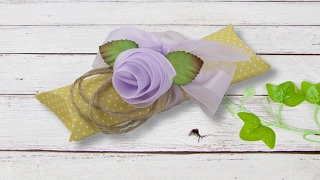 Yellow Polka-Dot Pillow Box with Rustic Flower for Valentine's Day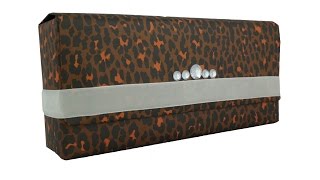 Leopard Print Purse Gift Wrapping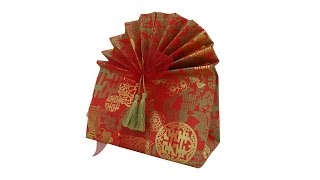 Oriental Design Wrapping for Chinese New Year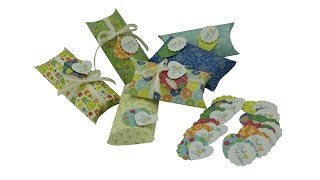 Pretty Fruity Pillow Treat / Favor Boxes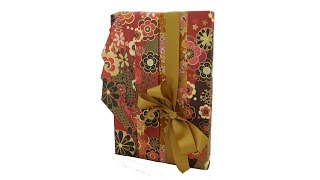 Japanese Fan Wrapping Style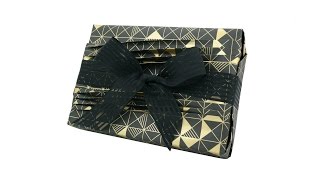 Reverse Japanese Pleats on Gold-Foil Dark Paper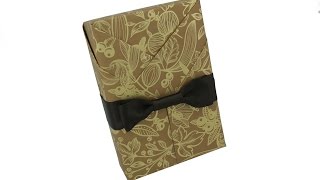 Kimono-Style wrapping with Gold-Foil Flower Pattern Paper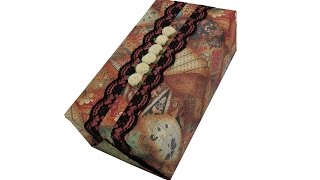 Lace and Traditional Batik Double-Sided Paper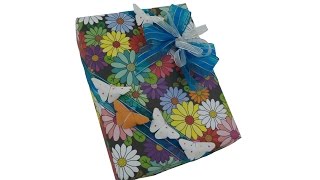 Flower Pattern Paper with Origami Butterflies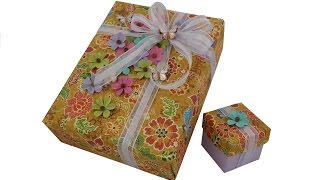 Batik Paper and Embellishments of Flowers and Butterflies
How To Wrap An Odd-Shaped Object for Christmas

Learn this super easy Christmas gift wrapping. It is a great way to wrap odd-shaped items especially when you have little time to spare.

How To Wrap a Cylinder Shaped Gift

This is another edition of our gift wrapping hack for wrapping cylinder or round-shaped items. The hack is simple way to wrap a cylinder or round-shaped item.

How To Wrap A Tea Bag For Party Favors Using Customised Envelope & Gift Tag

We designed a tea bag envelope that is perfect to enclose your favourite tea bag or your own blend of tea! Impress your guests and loved ones as they are presented with an elegant wedding favor, party favor or event door gift.

How to Decorate Any Party Favor With Gift Tag

Love the gift tag? Go to http://store.giftelements.com to get yours! You can personalise them to any occasion! Decorate any party favor or door gifts with beautiful and colourful gift tags. Add your greeting or sentiment to the gift tag to show your family and friends how much you appreciate them!

How to Decorate a Plain Favor Box with A Gift Tag

Love the gift tag? Go to http://store.giftelements.com to get yours! You can personalise them to any occasion! We decorated a plain white box and turned it into an elegant wedding-worthy favor box. It's so simple!

How To Decorate A Mini Nutella Jar With Gift Tag

Love the gift tag? Go to http://store.giftelements.com to get yours! You can personalise them to any occasion! We decorated a small Nutella jar with ribbons and a Thank You gift tag held up with an ice-cream stick! Transform a simple bottle jar into something gift-worthy that shows your appreciation. Perfect for wedding favors, bridal shower, baby shower, birthday party or just because!

Scan-N-Cut Pattern for Cut-Out Sentiment Favor Gift Box

Imagine a gift box that has its own sentiment pop-up. A greeting card, gift tag and gift box all in one. Coming up with the idea was fun but creating the actual patterns on the Scan-N-Cut software was even more pleasurable. We started the design with a simple square-based box with a raised front side where we could place the "You Are A Star" cut-out sentiment.

Bottle Gift Wrapping Quickie Hack

We have the perfect hack to help you gift wrap a bottle very quickly. Basically, we used the same paper roll-and-flatten technique that we created to wrap any circular shaped objects. It makes evenly spaced pleats that collapse into symmetrical folds even on sloping surfaces like the neck of a bottle.

[Video & Template] Scan-N-Cut Pattern for Self-Assembly Favor Gift Box with a Modern Look

This is not the first time we have showcased this rectangular Scan-N-Cut self-assembly favor gift box. We designeThis time we gave the box pattern a more modern look with the words "WITH LOVE" cut out on one side of the top lid. On the underside of the lid, we overlaid the cut-out words with a piece of patterned cardstock to bring out the typography.d the box pattern using the Brother Scan-N-Cut, and created stylish wedding favors with it.

Custom Stickers, Gift Tags and Many More

We are pleased to announce the opening of our brand new online store with custom stickers and gift tags. We have stickers and tags for weddings that can be personalised with the names of the bride and the groom.

[Video & Template] Scan-N-Cut Pattern for Bracelet Gift Box

We were inspired to create this Scan-N-Cut pattern for a bracelet gift box because it can be frustrating when shops do not provide a box with the jewellery they sell. At least in Singapore, costume jewellery are usually packed in a drawstring pouch.

Loops-In-A-Row Bow to Decorate Gifts for Guys

We made a quick and cute video on how to make a smart-looking bow called the Loops-In-A-Row bow. It is the perfect bow to decorate gifts for guys because it does make the gifts look quite dapper.

Personalised "Thank You" Gift Tag for Wedding Favours

We are pleased to announce the launch of our first custom gift accessory, which is a personalised wedding favour gift tag. It is a "Thank You" gift tag measuring 5cm x 6cm with rounded corners and a romantic design of bright reddish floral bouquet. It is professionally cut from a sturdy 310gsm art card.

Valentine's Day Gift Wrapping Hack for Small Jewellery

Quick, elegant and easy! Watch how we wrap small jewellery in a few simple steps. Suitable for earring, pendants and bracelets! Show your loved ones how much you care this Valentine's Day with a beautiful gift that is sure to impress.

Flower Looped-Top Valentine's Day Gift Wrapping Style for Cylindrical-Shaped Gifts

It's never too early to prepare for Valentine's Day. We are all hearts and flowers on this romantic day -- and that is exactly how we wanted our gift to look. We used a wrapping paper with heart motifs and turned the cylindrical cookie tin into a flower by looping strips of the paper. Too pretty to resist!

Japanese Fanned-Out Pleats for an Expensive-Looking Gift Wrapping Style This Christmas

We thought it would be great to do a video of how we created the Japanese fanned-out pleats and layered look for the Elie Saab fragrance set. We used a wax-coated florist paper with gold and white stripes as the main outer wrapper. A panel cut out from our Golden Garden gold-stamped wrapping paper was laid underneath the fanned-out pleats. This immediately creates a contrast and the fanned-out pleats become more prominent.

A Gift Wrapping Style Fit for Diwali (Deepavali)

We combined a green non-woven wrapping sheet with a slight shine and a floral flourish made from hot pink tissue paper. The translucence of the non-woven sheet allowed some of the hot pink to peek through, which provided some harmony to these complementary colours.

Super Fast and Chic-Looking Gift Bag Using Polka Dot Gift Wrapping Paper with Pretty Gift Tag

Our video this time (view it below) does suggest using the polka dot wrapping paper to make a gift bag for children's parties or baby showers. On the other hand, we chose to use a black grosgrain ribbon with white stitching to tame the polka dot colours without losing any of their vibrance.

Make a Handbag Gift Box Using the Brother ScanNCut Machine

Recently, we became the proud owner of a Brother ScanNCut paper and fabric cutting machine. We have been designing and cutting boxes ever since. At least, I am completely enamoured by the endless crafting possibilities. There are also numerous available template designs on the Canvas software that can be simply downloaded and turned into instant favour boxes. We shot a video footage on how we created a handbag favour box from one of these templates.

Wrapping a Circular Gift with Golden Garden Wrapping Paper

Buy this gorgeous wrapping paper here: http://bit.ly/2i1k739 Wrapping a circular gift is always a painstaking task. Most people resort to placing them in a standard gift bag -- which may be difficult to find the perfect size! We have simplified wrapping a circular item using a unique technique that requires minimal sticky tape. All you need is a beautiful wrapping paper and a simple embellishment to make your gift look luxurious and amazing! Contact us at giftelements.com for gift wrapping service!

Creative Gift Wrapping with Radiating Japanese Pleats and Batik Wrapping Paper

We created this gift wrapping style using our gorgeous batik gift wrapping paper to commemorate the 52nd birthday of our nation Singapore. We chose this wrapping paper because it depicts motifs unique to Asia, especially South-East Asia and is symbolic of the multi-cultural society here in Singapore. We added the radiating Japanese pleats to represent the fanned out pleats of a batik sarong

Boho Chic Style Gift Wrapping with Flower Garden Paper

I am a child of the 1970s. The fact that we have been flooded lately with boho-style fashion is therefore simply marvellous. Say goodbye to monochrome and hello to a kaleidoscope of colours. We can't wait to showcase some boho chic gift wrapping. We decorated the gift using a double-sided luxurious satin ribbon in teal made into a luscious bow. The more sombre teal hue added a touch of subtlety and sophistication. The riot of colours is suddenly tamed and ended up looking pretty classy.

Weaved Party Favour Pack Made From Batik Wrapping Paper

The month of Ramadhan is coming to a close and the feast of Eid falls on Sunday, 26th June 2017, in Singapore (and most of South-East Asia). We made a quick video showing how to make a cute party favour from paper weavings and filled it with little bonbons. The weaved casing is inspired by the "ketupat", which is a Malay rice cake cooked in a casing weaved from the long, slender leaves of coconut fronds. We used our Country Strong Batik Wrapping Paper (19 inches by 27 inches) that has two sides. One side is printed with various batik patterns and the other side is entirely printed with a dusky pink colour.

Two-In-One Gift Decoration Pretty Bow and Sentiment Tag

Basically, we made a one-layer star gift bow and placed a circular sentiment tag in the middle. Why is it called a star gift bow? This is because it is made using a template that looks like star. We used a 6-pointed star template to create a bow with 6 loops. If you want to create this template on your own, it measures 5 inches tip-to-tip along the longer vertex and 2.5 inches tip-to-tip along the shorter intersecting axes.

Eid Mubarak Festive Gift Basket for Your Muslim Friends

Have you ever wondered what to give your Muslim friends for their Eid celebrations? We suggest making a bright and festive-looking gift basket. One important thing to note when preparing food hampers for Muslims is to ensure that the goodies are halal. This means food prepared in a way prescribed by Muslim laws, especially if it includes meat. If you are really worried about getting this wrong, well not to worry. Click to read the blog on how we do it.

Make a Creative Gift Envelope to Wrap Small Gifts

Small gifts can be a pain to wrap especially when they do not come in a box packaging or if they have irregular shapes. We designed an envelope out of cardstock measuring 6 by 4 inches to add a little more volume to the gift. This adds some element of surprise and mystery when receiving slightly bulkier gifts.

Creative Gift Wrapping with Leopard Pattern Wrapping Paper, Japanese Pleats and Frangipani Flower

We are celebrating animal prints by creating this Jungle-look gift wrapping! Using our Leopard Print wrapping paper, we created an elegant yet sophisticated design using Japanese pleats which is bound by brown and olive satin ribbons. The designer bow and ribbons represent the trees and vines in the jungle, and the bright frangipani centrepiece adds a dash of tropical prettiness. Let's bring animal prints back in fashion!

Creative Custom Gift Bag with Front Pocket and Decorative Bow

We wanted to create something that will throw you back to the pre-WWII golden era with our Retro Labels wrapping paper turned into a stylish gift bag. We decorated the bag with a stunning florist bow in cold wine and you end up with a nostalgic gift package!

Creative Transparent Plastic gift favour box for Easter Spring celebrations

Another party pack idea for your Spring celebrations this Easter! We have handcrafted this long transparent box made from plastic sheets. It holds about 5 to 6 small chocolate eggs. For decoration, a piece of patterned paper and silver elastic band wrap around the box. We thought it looks quite festive.

Creative Popcorn gift favor box template hack using porcelain Easter blue cardstock pattern

We've designed a template hack for a mini (and any size) popcorn box. Looks so cute on the porcelain blue cardstock pattern. Perfect for the upcoming Easter celebration and to mark the beginning of Spring.

Gold and Black Masculine Gift wrap Design (Valentine's Day Special)

Place socks, ties or boxers in a box before wrapping it up in this masculine design using gold-foil wrapping paper and matching custom-made bow!

Pleated Batik Gift Bag for Multiple Small Gifts (Valentine's Day Special)

Traditional pleated batik gift bag can contain multiple small gifts such as lipstick and nail polish! Pair the gift with a bunch of roses and your lady will surely have sparkles in her eyes.

Gold Foil Gift-wrap with Blue Ribbon and Gold Leaves Embellishment

We used a bright blue ribbon on this gorgeous gold foil wrapping sheet with flower motifs. The combination and contrast were jewel-like and eye-grabbing

Yellow Polka-Dot Pillow Box with Rustic Flower for Valentine's Day

Present a gorgeous scarf to your girlfriends in a beautifully decorated pillow box. It's so easy, and yet shows a lot of thought!

Leopard Print Purse Gift Wrapping

We've turned this sexy leopard print wrapping paper into a sophisticated looking purse. This is such a super-chic way to delight your girlfriend. A few bling embellishments and a velvet ribbon add richness to the style.

Oriental Design Wrapping for Chinese New Year

Perfect gift wrapping design for Chinese New Year. Guaranteed to impress your friends and family. A firm declaration that you care.

Pretty Fruity Pillow Treat / Favor Boxes

Delight your friends and guests with hand gifts wrapped in pillow boxes. The fruity design on this paper pack is simply vibrant. These pillow boxes have been handcrafted from 8" x 8" paper. Perfect as hand-gifts at parties or to give away small treats to friends.

Japanese Fan Wrapping Style

This wrapping paper has a beautiful Japanese design of sakura flowers. It has a luscious gold-stamped finish for the luxurious look to any gift. This gift wrapping technique features Japanese pleats that fans out to give that perfect oriental asian look.

Reverse Japanese Pleats on Gold-Foil Dark Paper

This gift wrapping paper looks like a city grid lighted up at night. It has that simply modern and cosmopolitan look. I would use this wrapping paper for a boyfriend or brother ;P Those reversed Japanese pleats could really make any gift look really sophisticated.

Kimono-Style wrapping with Gold-Foil Flower Pattern Paper

We call this gift wrapping paper "Golden Garden" because it is covered with a gold-stamped flower pattern. Very luxurious. We thought it would be great to try this kimono-style on a gift with this paper. The final result looks pretty regal.

Lace and Traditional Batik Double-Sided Paper

In this video, we demonstrate how to sweeten up a traditional batik gift wrapping paper. Batik patterns are unique to the South East Asian region and they are usually seen on clothing. Its quite usual to see Batik worn with lace. That's what we are trying to recreate here with this gift wrapping design.

Flower Pattern Paper with Origami Butterflies

In this video, we show you how to turn a gift wrapping paper into a 3D flower garden. We added origami butterflies to give a life-like effect to the beautiful pattern. The blue ribbon symbolises the clear blue sky over a lovely flower garden.

Batik Paper and Embellishments of Flowers and Butterflies

In this video we show you how to bring an exotic batik gift wrapping paper to life by adding flowers and butterflies embellishments. The idea is to make the batik pattern pop out so that it can be appreciated both visually and physically.